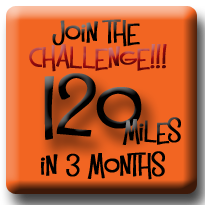 At
4 Nuts in A Nutshell
, Cat is putting on a challenge to peal ourselves out of our butt-formed computer chairs and improve our health. I'm joining in and hope you will too.
Don't worry it's not that many miles. Only 1.5 miles 6 days a week.
OR
1.8 miles 5 days a week.
easy-shmeezy. Just walk or run it. You probably do close to that anyway. Get the whole family involved. You could make it a game. Go for a hike up the mountains. Go for a stroll along the beach. Just walk around your neighborhood. Train for your next race. Whatever it is, this will help improve your life. I promise.
Hope to hear your updates on 4 Nuts in a Nutshell.